Stir It Up Lux Wireless Turntable
Free Economy Shipping. Expert Support. No Hassle Returns.
See details
Meet the House of Marley Stir It Up Lux Bluetooth Turntable. With a replaceable Audio-Technica 95E elliptical stylus and aluminium headshell, this turntable elevates your experience by way of improved sound quality and tracking ability. The bamboo plinth and glass platter enhance audio performance, while the double-sided cork slipmat adds a pop of playful colour. With Bluetooth connectivity, its anti-skate mechanism, adjustable counter-balance and a built-in pre-amp, the Stir It Up Lux Turntable brings epic sound and sustainability together.
Solid, sustainably crafted bamboo plinth
Bluetooth® v5.3 capability for wireless pairing
45 and 33 RPM speeds
Auto start/stop with belt drive
Built-in, switchable pre-amp; 3.5mm aux out and RCA (phono/line) out
Replaceable Audio-Technica elliptical stylus (AT-95E) and adjustable counterweight
Frequently Asked Questions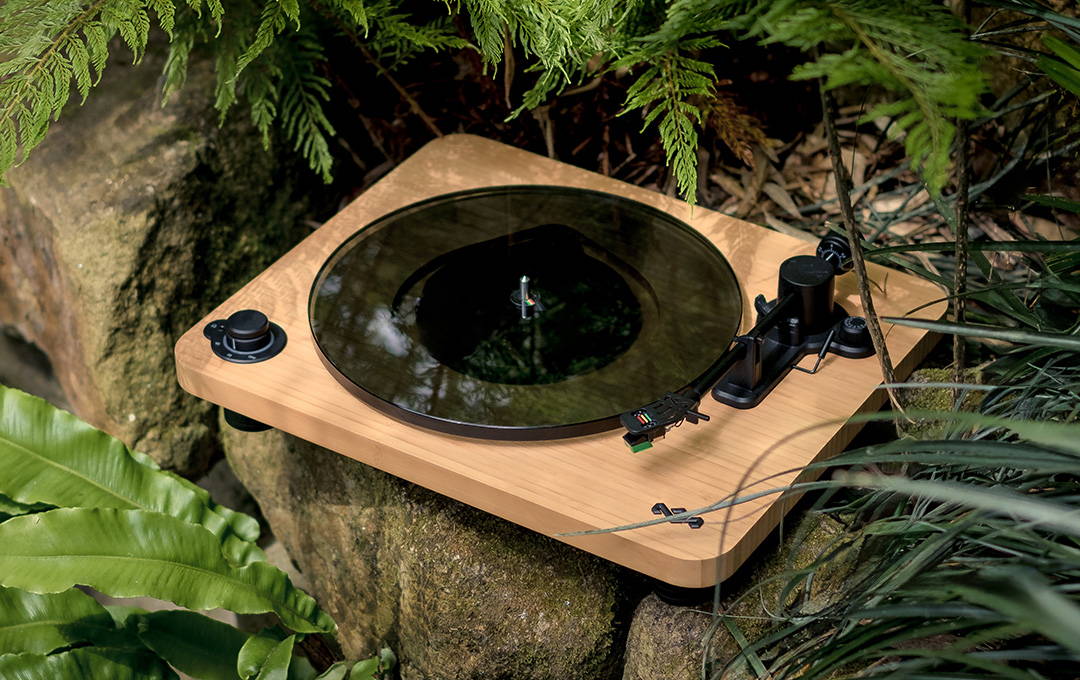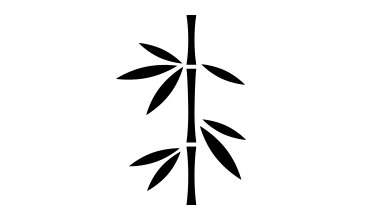 COMPLEX DESIGN,
STRAIGHT FORWARD SOUND

The replaceable AT-95E stylus has a complex shape, boasting a narrower profile and larger contact area than conical styluses. This means enhanced sound quality and improved tracking. Its narrower profile allows it to capture even the smallest details of your favorite albums by delving deeper into the record groove.

Additionally, the lightweight aluminum headshell and tonearm work together to take the turntable's tracking ability to the next level. The lighter tonearm effortlessly follows the record's contours, resulting in improved tracking and less distortion—a win-win for everyone. The redesigned headshell is also lighter, requiring less tracking force for proper stylus contact. This means less wear on the stylus and records, ensuring a longer lifespan for both.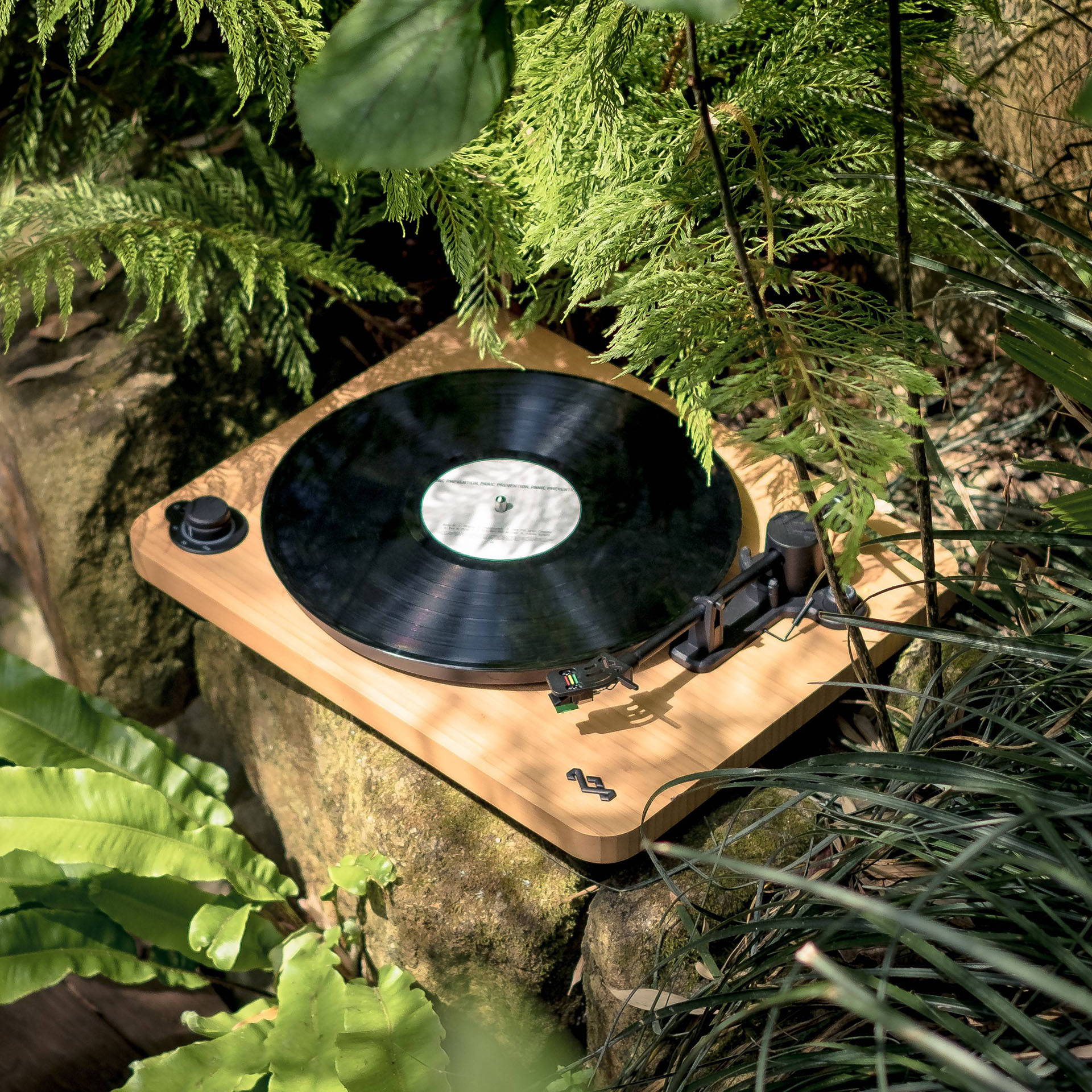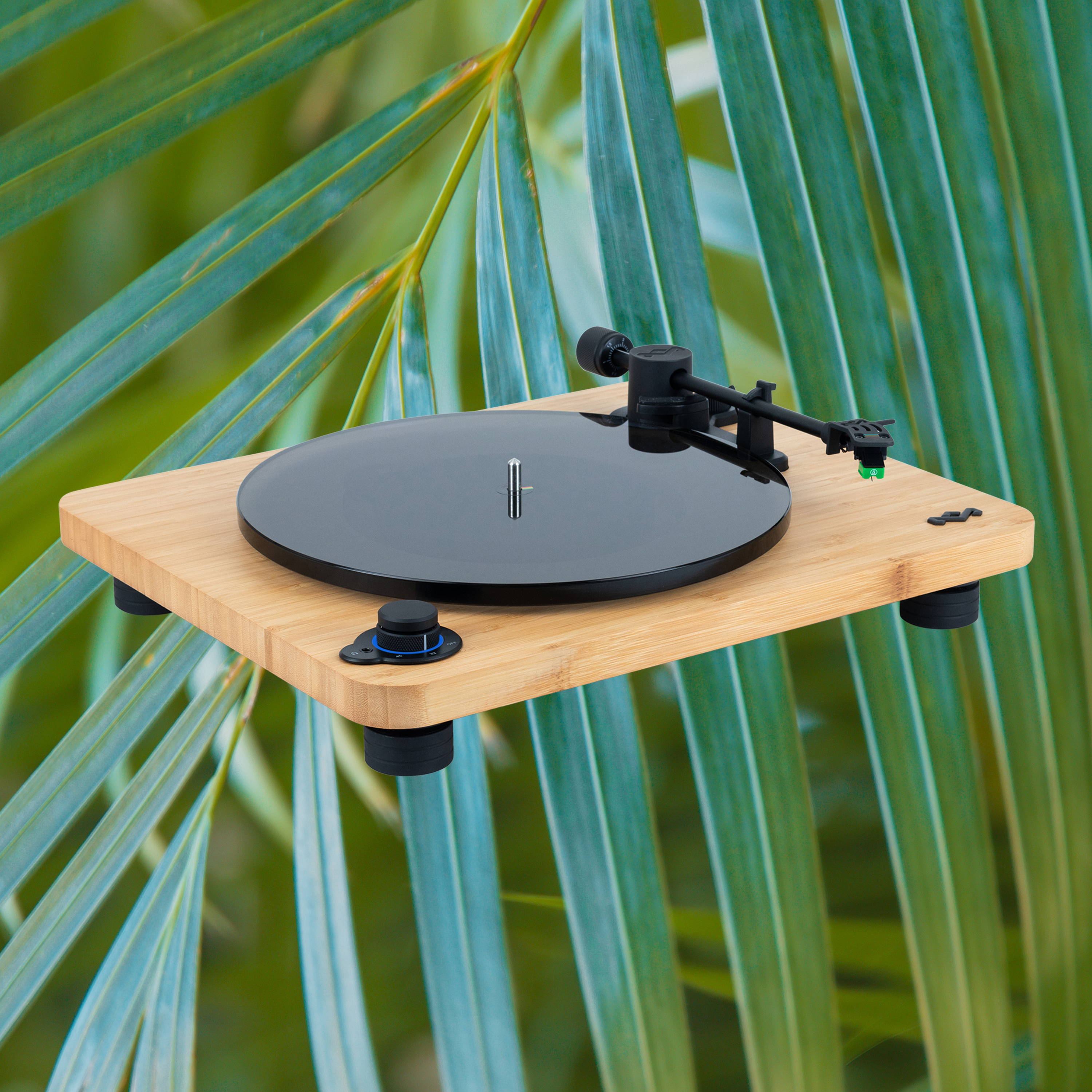 In true Marley style, the Stir It Up Lux Bluetooth® Turntable is all about sustainability. Carefully crafted using bamboo, aluminium, glass and cork, this music must-have harnesses the power of mindfully-sourced materials. One of the world's fastest growing plants, bamboo can grow up to a metre in height in just 24 hours – making it extremely renewable. Aluminium and glass are both infinitely recyclable, while cork is made from stripped-down bark as opposed to cut-down trees.
Simple and easy to connect your Bluetooth® enabled devices, you'll be able to fire up your tunes whenever and wherever you need them.

Pair the New Stir It Up Lux Turntable to our Get Together Duo for the perfect home sound set up. Chill as your favourite vinyls spin and enjoy a crisper, smoother sound from the Get Together's smooth full range way speakers.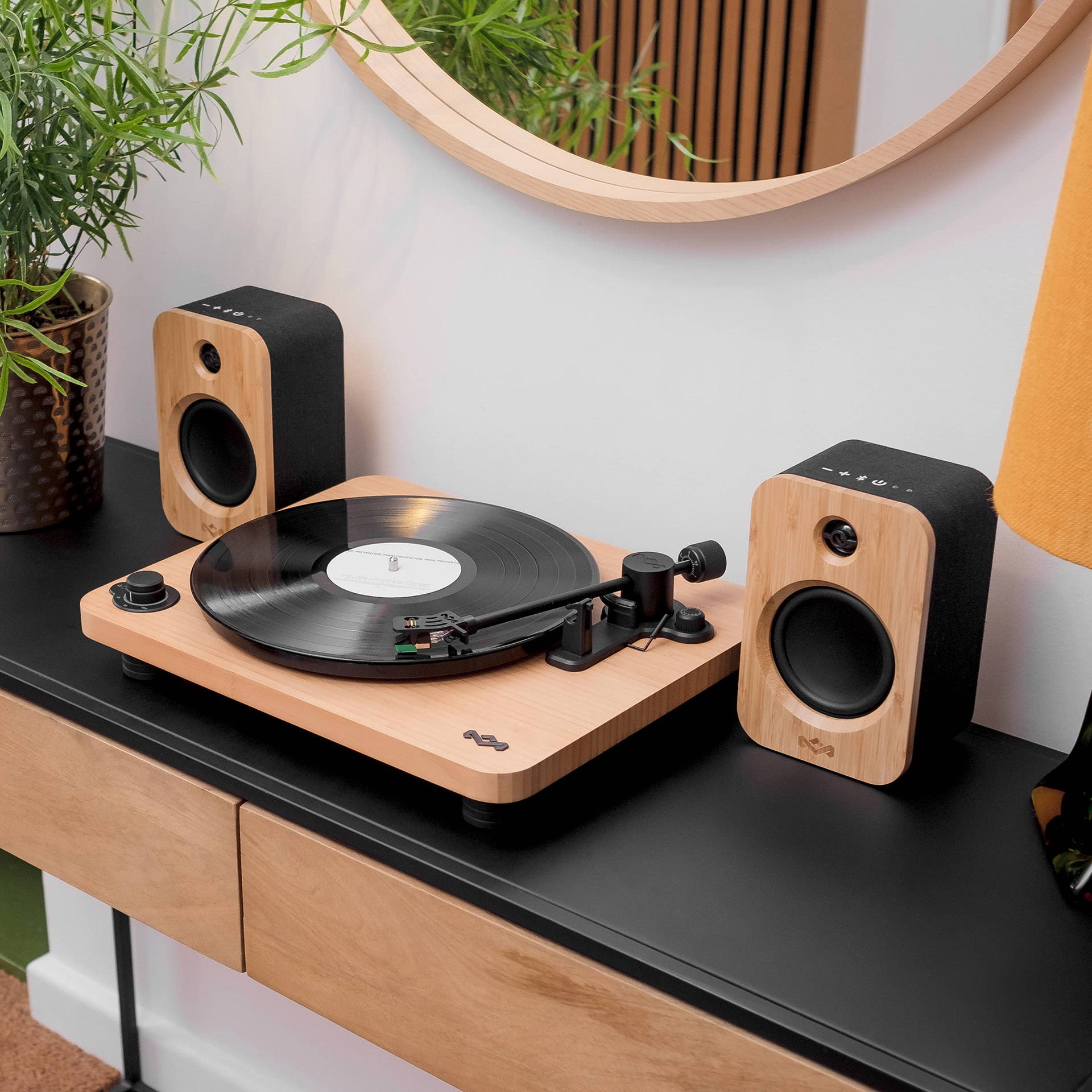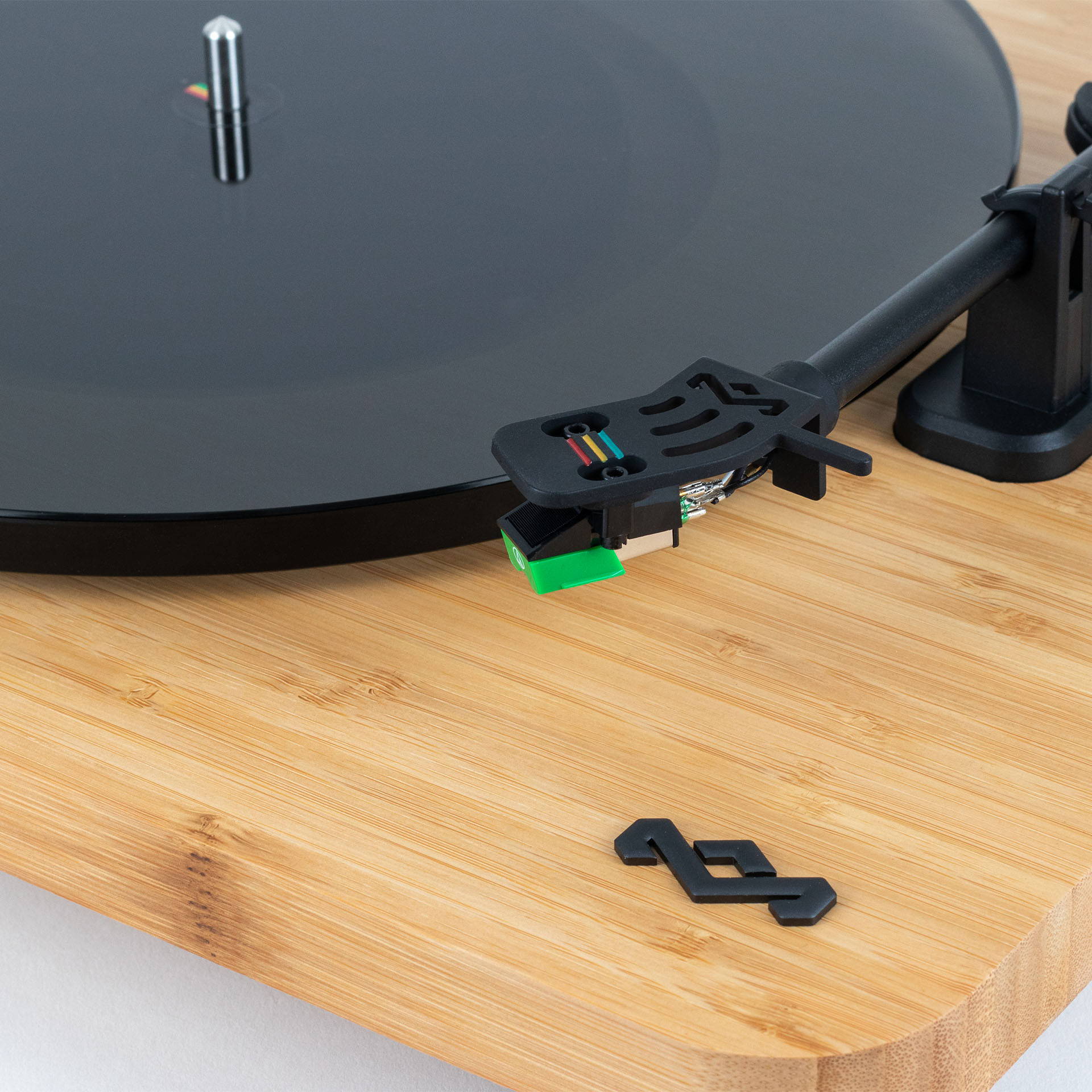 Crafted with a solid bamboo plinth, the Stir It Up Lux Bluetooth® Turntable is denser and heavier, meaning it effectively absorbs motor and bearing noise (as well as any vibrations from external sources) while providing a cleaner and more accurate audio experience.

Clever, right? The glass platter helps here too – its added mass and inertia help maintain a consistent rotation speed, leaving you to enjoy a listening experience that's sharp, clear and true to its roots.
MEET OUR FIRST EVER ZOETROPE SLIPMAT

Our slipmat is double sided. You can have the luxurious black cork side, or flip it over and admire the vibrant zoetrope side. A zoetrope slipmat is a specialised slipmat that when the turntable is spinning, creates the illusion of motion. With vibrant colour and mesmerising movement slipmat, this turntable is a showcase of everything Bob Marley continues to stand for.

There are 2 ways to view the animation:
1. In a dark room under a strobe light (you can download free apps that can make your phones torch a strobelight)
2. Download an app, that changes your devices camera's frame rate. You can then record a view on your device.
Note: Our zoetrope works best at 33RPM and 11 Hz or 11 FPS.

Click here for full instructions