The Get Together Duo are true wireless and sync together automatically as soon as you switch them on.

25-HOUR PLAYTIME FROM RIGHT SPEAKER
Enjoy up to 25 hours of playtime of your favourite playlists or podcasts with the right speaker.

MAINS POWERED LEFT SPEAKER

The left speaker is a permanent plug-in home wired speaker, with built-in RCA and Aux inputs.

Bamboo is one of the most sustainable materials in the world as it grows quickly, requires no fertilisers or pesticides, and regenerates on its own.
The two full range way speakers (containing a rating of Bass 2*15W each) deliver a strong output that will fill any room, while the 2*5W tweeters ensure all the details stay crisp and clear.
They connect to form fantastic stereo sound, filling your space with the perfect tunes. They can also be used as individual speakers so you can take one on the go and leave the other at home.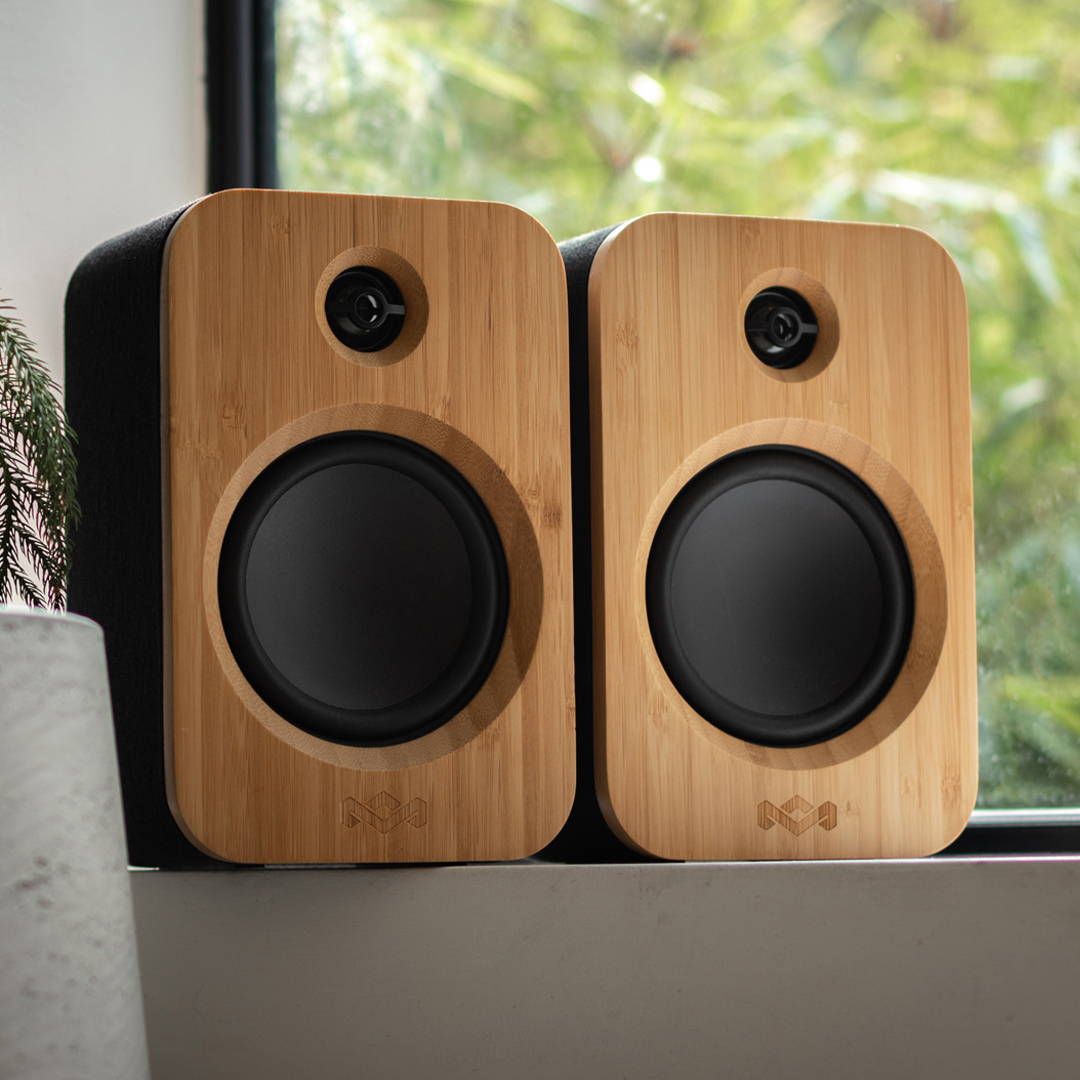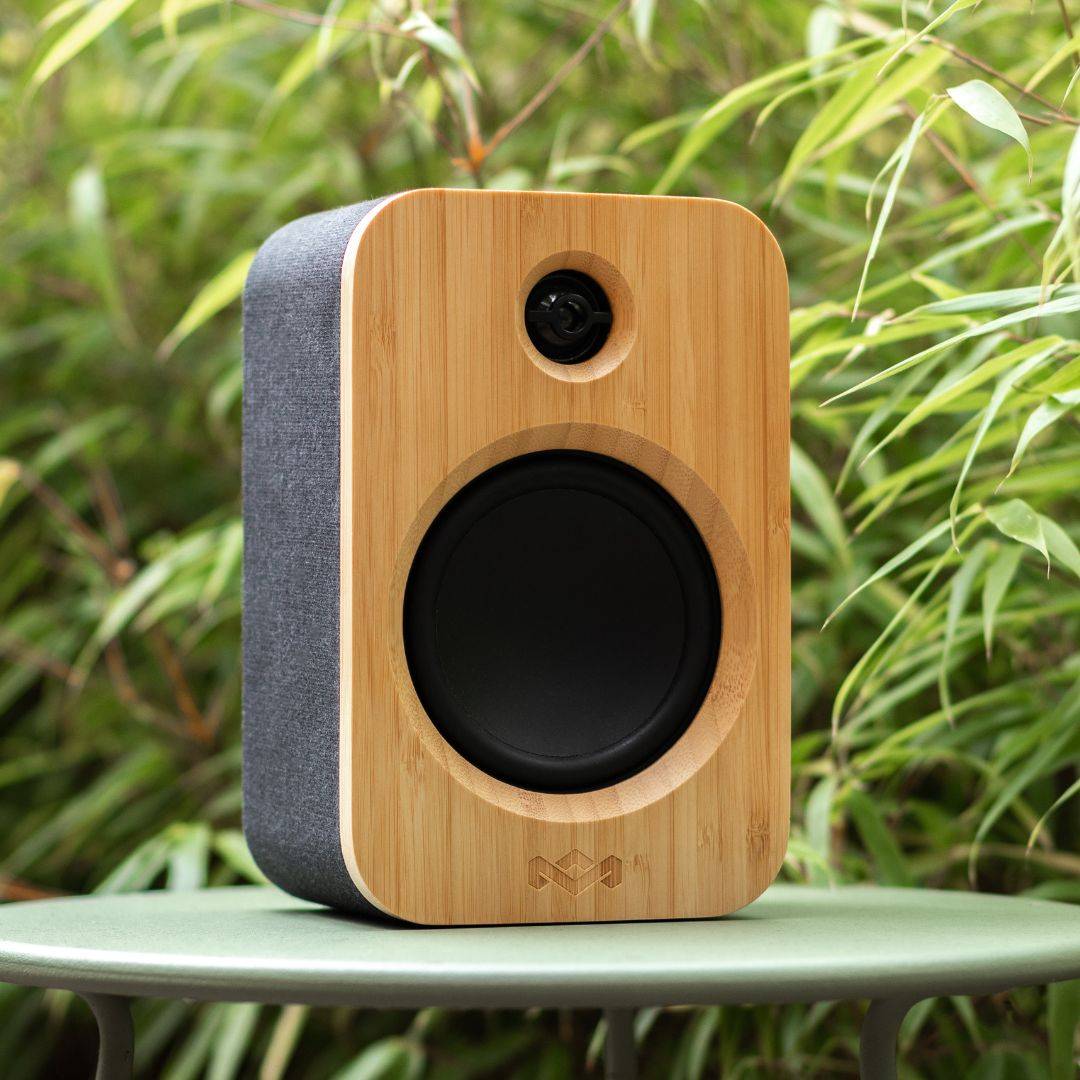 Right Speaker: The Right Get Together Duo Speaker features 25 hours of battery life. This gives the portability to move your audio around the house or take it with you to the garden or on the go.
Left Speaker: The Left Get Together Duo Speaker is mains powered. This creates a permanent in-home speaker.
Compatible with IOS and Android, you'll experience that classic Marley sound no matter how you connect.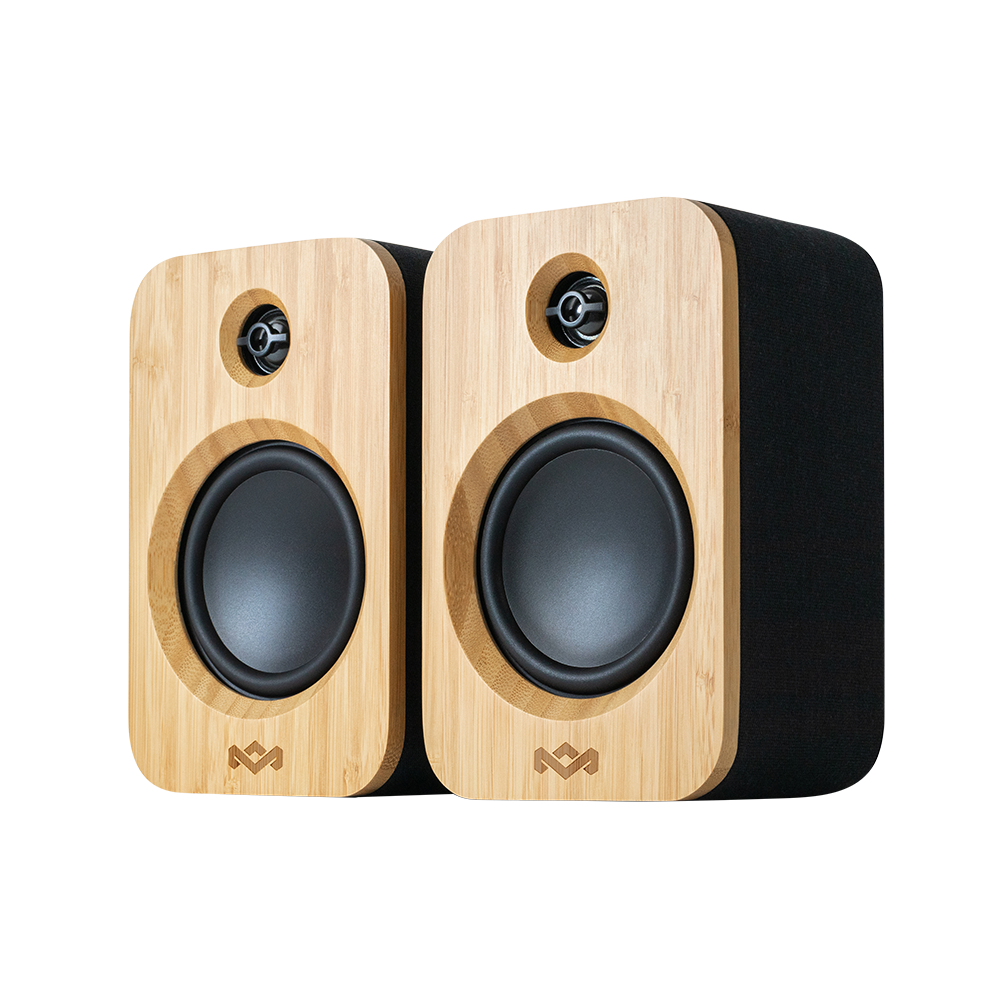 Our Get Together Duo Bluetooth Bookshelf Speakers are crafted with sustainable materials.
Simple and easy to connect your Bluetooth® enabled devices, you'll be able to fire up your tunes whenever and wherever you need them.
Pair the Get Together Duo to our Stir It Up Wireless Turntable for the perfect home sound set up. Chill as your favorite vinyls spin and enjoy a crisper, smoother sound from the Get Together's smooth full range way speakers.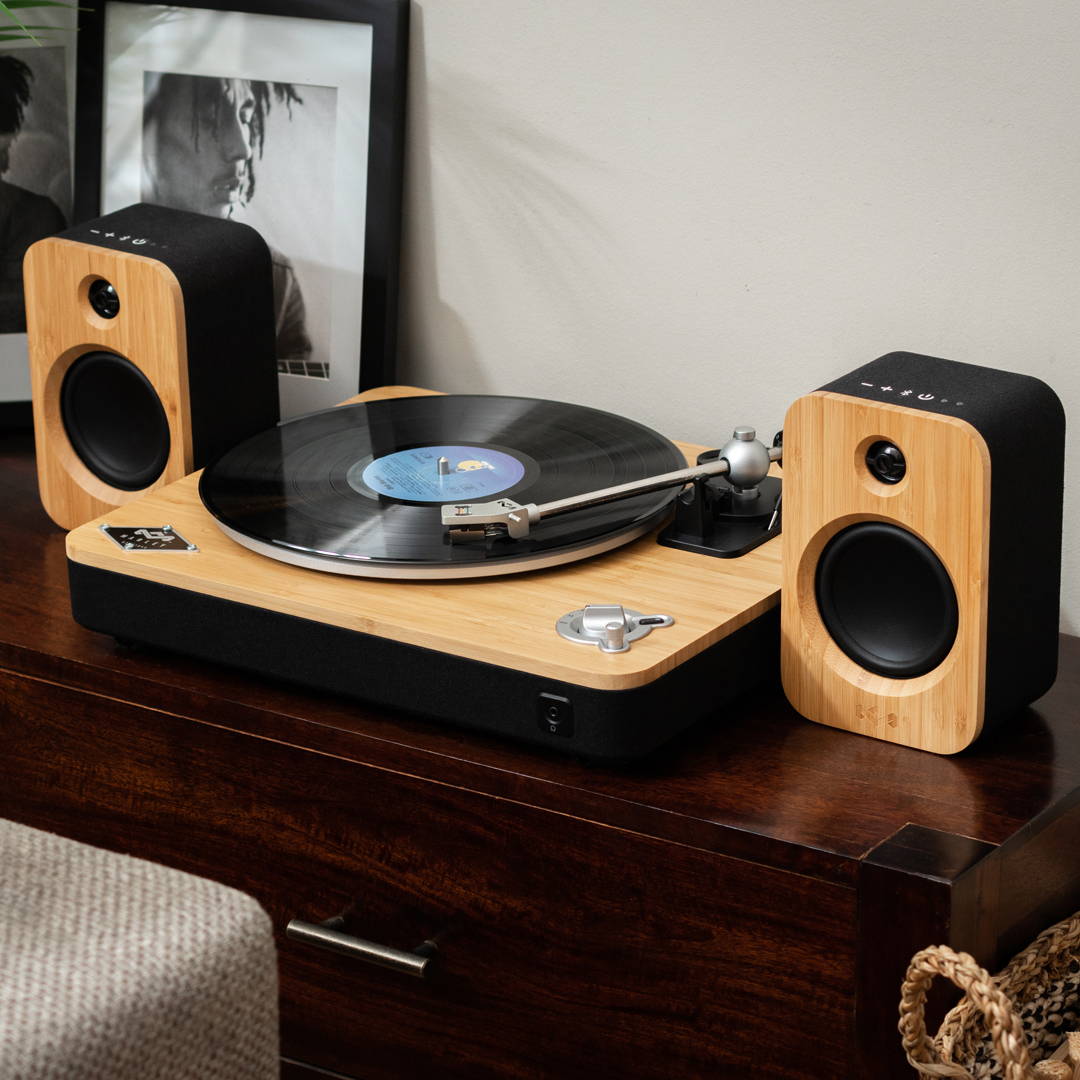 Mindfully chosen, the materials we use keep us consciously connected to our vision for a sustainable future.
Get Together Duo Bluetooth Bookshelf Speakers are crafted from Bamboo and REWIND® Fabric. We choose bamboo because it is one of the fastest growing plants in the world.
REWIND® Fabric is soft, hard-wearing and woven from recycled materials (a balanced blend of 30% reclaimed organic cotton, 30% reclaimed hemp and 40% recycled PET) to curate our signature style.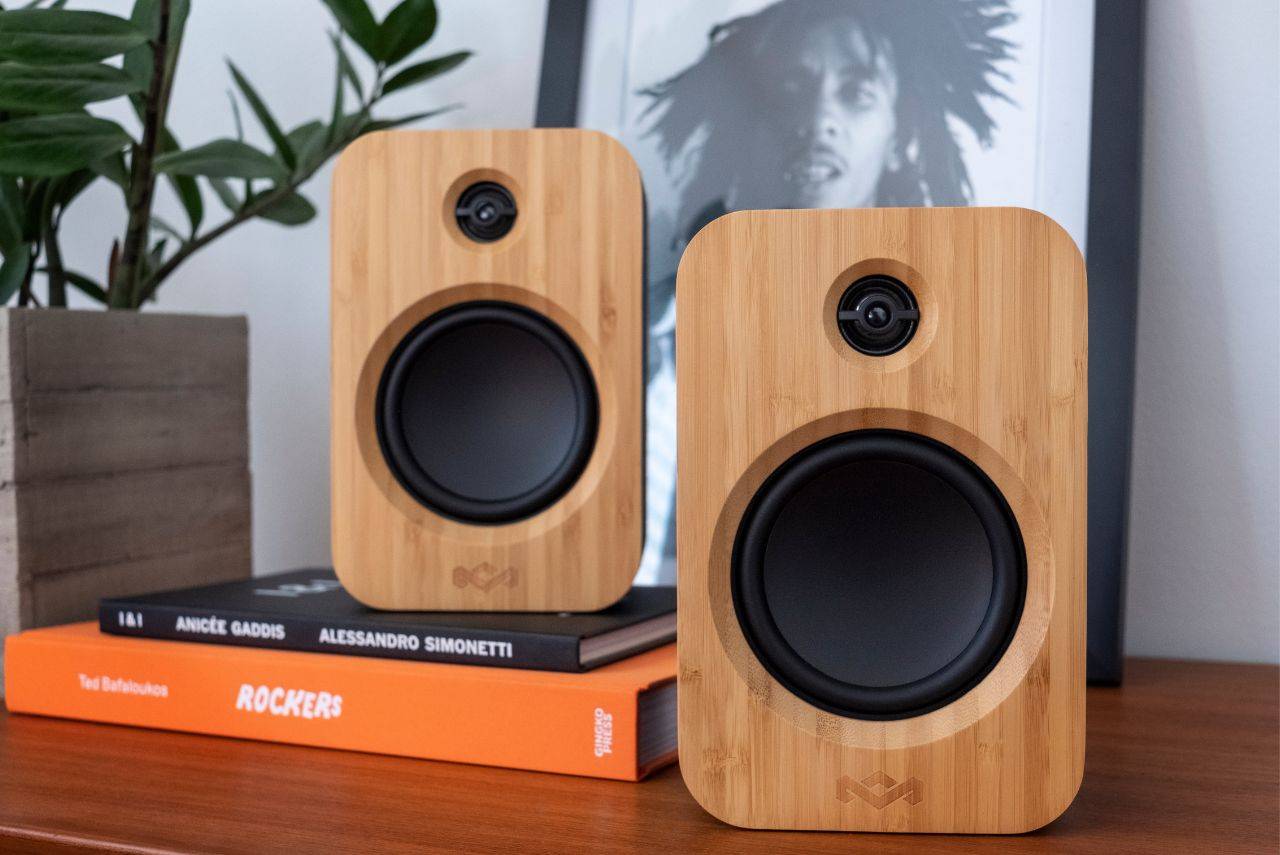 Setup & First Use

If you're setting up your Get Together Duo Bookshelf Speakers for the first time, follow the steps in the video below for quick and easy pairing with your mobile. Visit our Frequently Asked Questions page for videos showing multiple set-up options. For any additional help, please find the full instruction manual here.